Texas drought affects even wildflowers
(Read article summary)
Generally, wildflowers are adapted to the vagaries of their local climates. But the severe drought in most of Texas, including Fredericksburg, has many wildflowers struggling.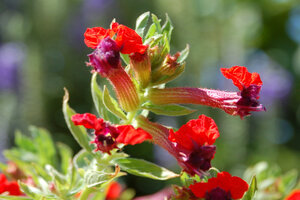 Courtesy of Craig Summers Black
Here's a quick movie quiz for you Western fans:
Q: In what Texas classic does John Wayne strap on his gun belt, grab his Winchester and lurch outside … to mow the lawn?
A: There is no such movie. Of course. Because no pioneering Texian would be so addled as to try to make the parched Lone Star State look like the verdant fields of foggy, dewy England.
High temps, little rain
Which, of course, Texans do now, and that is one reason the San Antonio area where we just vacationed is in a D4, Stage 3 drought.
That means the National Weather Service considers the drought worst-category "exceptional," and the San Antonio Water System says the aquifer is so low you can only water your yard between the hours of 3 and 8 a.m. and 8 and 10 p.m. one day a week. (Fines for outlaw waterers range from $150 to $1,000.)
This dry spell is compounded by recent record-high temps. We suffered through two consecutive days of 105 degrees F. (40+ C) on our recent trip down there. The rest on the week it was above 100 F. (38 C). And this isn't even the torrid season yet.
A visit to Fredericksburg
One of the must-stop sites on our trip was to see Wildseed Farms, the famous wildflower shop and display garden just outside the Hill Country town of Fredericksburg.
---