Dandelions in the lawn: Don't spray them, eat them.
(Read article summary)
Why go to all the trouble of spraying dandelions in the lawn when you can use the greens in delicious recipes?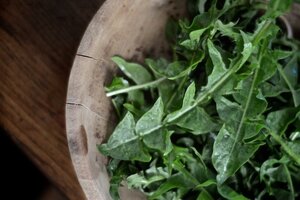 Courtesy of Jenny McGruther of Nourished Kitchen website
I hold this truth to be self-evident: People take their lawns way too seriously.
Every summer, millions of Americans -- including more than a few otherwise sensible folks who drive hybrid cars, grow their own food, and generally love the planet -- decide to carpet-bomb their yards with herbicides at the first pale flicker of a dandelion.
As a gardener, I know of lots of more interesting plants to grow than dandelions. But by the same token, are these little weeds so horrible? Are they really worth the time, expense, and nasty chemicals involved in driving them from our lawns?
A tasty solution
Just as Jonathan Swift famously suggested that the solution to poverty in Britain was to eat the poor, I propose that the solution to dandelions in the lawn is to eat the weed.
Eating one's enemy is not easy, especially on the first try. My wife won't let me forget a failed attempt at dandelion wine; we spent half a day picking dandelion blossoms, but I never got around to making the wine. The blossoms sat sadly in our freezer for months.
Dandelion greens offer a much quicker payoff. I polled friends for the best recipes.
Recipe ideas
Italian dishes topped the suggestions. My pal Julia in Oakland, Calif., wrote that she used locally sourced dandelion greens when she worked at Pauline's Pizza in San Francisco.
"We used to grow them specifically for salad and as a pizza topping. Delish!"
---