A visit to a slave garden
(Read article summary)
Near Tarrytown, N.Y., Philipsburg Manor re-creates a slave garden that shows how slaves in the 1700s grew food for themselves and to sell.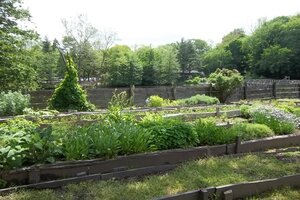 Courtesy of Lois J. de Vries
Our recent journey along the Hudson River included a visit to Philipsburg Manor House and Garden, a living history farm located near Tarrytown, N.Y.
The original manor, which encompassed 54,000 acres, dates from a 1693 land grant and was established by the Anglo-Dutch merchant Frederick Philipse.
He ran his enterprise as a plantation that furnished supplies for the Atlantic sea trade and as headquarters for a worldwide shipping operation.
The manor house, garden, and a commercial mill were built along the Pocantico River, so that small boats could ferry grain and dairy products to sailing ships that were anchored in the nearby Hudson River.
Entering a woodland time machine
Because the usual entry point (over the bridge across the mill pond dam) was closed for repairs, we reached the farm via a path that runs beside the the pond.
To my way of thinking, this was actually the better route to take. The farm was hidden from view by the leaves of surrounding trees during our leisurely stroll, which was just long enough to lose touch with the sights and sounds of the town of Sleepy Hollow.
We entered the path during the 21st century and emerged at the other end ... 300 hundred years earlier.
Heritage breeds of goats and sheep ran past us and clambered freely over logs and rocks. Cows chewed their cud contentedly in the barnyard, while costumed docents went about their historic chores. The peaceful silence was broken only by the rush of water over the dam.
Plants grown in the slave garden
---