Tomatoes in the garden and the kitchen
(Read article summary)
A gardener and a chef team up to talk about how to grow and prepare tomatoes, including an easy, delicious recipe for Pepperoni Pizza Tomatoes.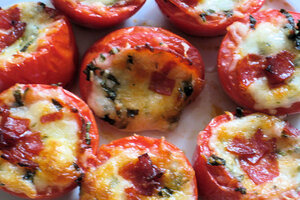 Courtesy of Linda Weiss
This could be the worst home-growing tomato season ever, says Anne the gardener. My tomatoes, with names like Whopper, Celebrity, and Big Beef resemble marbles and golf balls rather than the softballs promised.
If you were late getting your tomato plants into the ground, as I was, then the heat and drought have probably dwarfed your crop, too.
If you haven't already, put down a thick layer of mulch around your plants to hold moisture in the soil and keep down weeds. This summer's weather conditions not only make for small fruit, uneven amounts of rainfall can cause the ruin of the fruit by blossom end rot.
Solutions for tomato problems
Blossom end rot shows up as a soft, concave, dark-colored, sometimes squishy, tomato bottom. You can save the rest of your fruit with ample water and an application of calcium chloride mixed in water.
Find the calcium chloride in garden supply stores. Follow the label directions for drenching the plant and roots with the solution.
If the leaves are being stripped of their soft parts, leaving only the ribs, you probably have one or more of the hornworm caterpillars at work. Look for them along stems and underneath leaves. (Because they're green, they may be hard to spot right away.)
Pick them off and mash them or drown in a bucket of soapy water.
Linda has developed a recipe perfect for these elfin tomatoes. Instead of the small Romas Linda uses, you could even use this recipe for a bumper crop of cherry tomatoes -- they never seem to suffer a disaster. Even when all of their leaves disappear, the fruit seems to hang on and ripen.
Pepperoni Pizza Tomatoes
---