How to grow and prepare figs
(Read article summary)
A gardener and a chef team up with advice on growing and serving figs.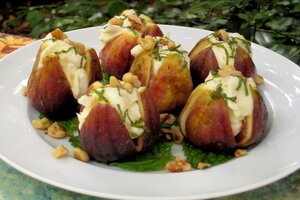 Courtesy of Linda Weiss
It was only natural that I plant a fig tree when I moved to the South, says Anne, the gardener. What I didn't know was I could have been growing a fruiting dwarf fig "up North" if I had planted it in a container and moved it indoors during the winter.
A dwarf black fig, Ficus 'Petite Negra,' is a fig bred just for containers. This fig grows to five feet tall and four feet wide. It has those bow-downs and bends in its branches that make it look old and charming.
Winter treatment
You can trim it back, if it won't fit in your house when you take the container indoors for winter, but you will lose the first fruit set. Figs will set fruit on branch growth from the year before, called old wood. This is the first crop in the summer. It is also the crop most likely to be lost with a late freeze. A second, fall, crop develops on growth that occurs in the spring and summer, called new wood.
In hard-freeze areas, move the potted tree indoors after the first frost but before a hard freeze. The frost will send it into dormancy. Water it only occasionally through the winter. It will not need any fertilizer until late winter when new growth begins.
If you live in an area where the winter temperatures do not go below 20 degrees F. (7 C), you can leave this fig in the ground. Be sure to protect the roots from freezing with heavy mulch.
The fruit of fig trees is quite interesting. What we pick as fruit is swollen tree stem with flowers inside. The skin of the fruit on the dwarf black fig is green and turns purple/pink when it is ripe. The best ripeness test is a gentle squeeze. If the fig is soft, it's ready to eat. The flesh is deep pink and sweet.
---