Decorative garden chairs and benches
(Read article summary)
Creative ideas for garden seating that get you outdoors to enjoy the quiet pleasures of nature.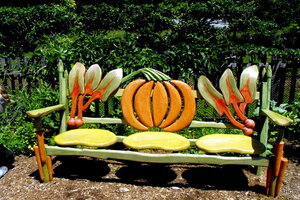 Courtesy of Denise Schreiber
It's almost the end of August. Summer is almost gone. I spent my summer running between weddings, graduations, anniversaries, and assorted other functions.
For gardeners, first, there was the nonstop rain of spring and early summer, then there was the record-breaking heat in much of the country that made it unbearable to be outside until after midnight.
The joy of sitting outdoors
One of my favorite things to do is to sit either in the garden or on the deck and just be quiet:
Watching butterflies land on my zinnias, listening to the catbird's mewing call because I was outside or, best of all, sitting in the darkness, watching lightning bugs, enjoying the sound of crickets, and the occasional owl hooting from his invisible perch.
I grew up in an old house that had a front and back porch with old-fashioned gliders on them. I would sit there for hours as a child, going back and forth as fast as I could go.Swinging was for my swing on the old cherry tree, which, miraculously enough, still stands at 100+ years old.
So, for me, sitting in the garden is a perfectly natural thing to do on a summer's night.
Creative chairs and benches
I had forgotten many of these pleasures until I attended the annual symposium of the Garden Writers of America a few years ago. One of the evenings was spent at Chanticleer Garden in Wayne, Pa.
---