A gardener shares her extensive plant knowledge
(Read article summary)
An Iowa gardener who sells plants at the Des Moines Farmers' Market includes expert knowledge of daylilies and many other plants at no charge.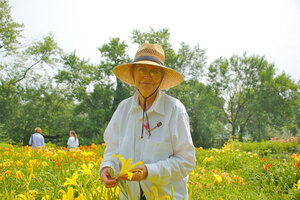 Courtesy of Craig Summers Black
Her name is Sha6ron – the numeral is silent. She, however, is anything but.
If you linger over one of her plants at her weekly stall at the Des Moines [Iowa] Farmers' Market, she will tell you how tall that particular variety gets. And how wide. Then how much water it needs -- depending if it's in part shade or part sun. And you know what looks good with that plant?
That's the kind of gardener Sha6ron Nelson-Vaux is. She has learned a great deal in her 40 years of gardening, and she doesn't want you to have to wait 40 years to know plants the way she does.
"When I first started gardening in 1970, I didn't have anyone to ask questions," she says. "And I never found that person. I had to become that person. And now I am the person I always wanted to meet."
Ha! Good one, Sha6ron!
A way to break the ice
Her humor is sly but infectious. Take the numeric name, f'rinstance.
"I have something like dyslexia," she says. "Reading and ciphering – math – are hard for me. So, OK, here's a little challenge for you. [The name with the number in it is] a little bit of silliness that gives people something to ask me about. Some people don't have the skills to ask me questions. This is a way to start a conversation."
At an open garden at her 6-acre home and nursery in semi-rural Altoona, 80 or so friends and fans converged to see more of her quirky plants, the metal sculptures she crafts and her impressive field of daylilies.
Countless daylilies
How many kinds of daylilies does she have?
---