Miniflora roses offer gardeners many advantages
(Read article summary)
Minifloras are the new kids in the rose garden, offering hybrid tea-style blooms and quick repeat bloom.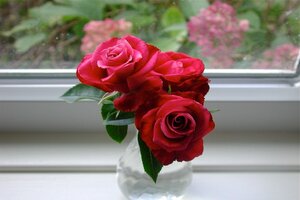 Courtesy of Lynn Hunt
There is no hard and fast rule as to when the hybridizing bug first bites its victims.
How a new rose is born
Eight-year-old schoolboy David Austin wished to create a new flower like the world had never seen.
Twenty-something Bill Radler hoped to breed a rose that didn't require constant pampering.
Ben Williams never gave the subject a thought until a chance encounter with a German hybridizer after World War II sparked a passion that burned until he passed away in 2006.
Today, even casual gardeners have heard of Austin's English roses and Radler's Knock Out collection.
Ben Williams' accomplishments, however, are not as well known. For more than 40 years, he coaxed the best characteristics out of rose "parents" to create memorable climbers, hybrid teas, and roses with striped petals.
But he is also credited with helping to invent a category of "in between" bushes that were too big to be miniatures and too small for full-size roses. In 1979, he patented the name "miniflora" (which he later donated to the American Rose Society) and spent the next 20 years trumpeting the plant's attributes to a basically apathetic audience.
Ben's persistence paid off in 1999 when the ARS officially accepted the miniflora as a separate class of roses. (It's sometimes spelled mini-flora or MiniFlora, but the ARS calls it miniflora.)
Exhibitors in rose shows had already discovered the charms of the miniflora when the standard bearer of the class, light pink Tiffany Lynn, was introduced in the late '80s.
---