Pears in the garden and the kitchen
(Read article summary)
A gardener and a chef team up to give advice on how to grow and prepare pears.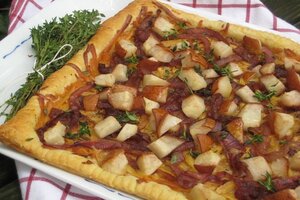 Courtesy of Linda Weiss
Back on the farm when I (Anne) was growing up, there was a twisted, half-dead, gnarly old pear tree that stood sentinel at the head of the vegetable garden. Every year it blossomed and put out a respectable number of pears.
Since this tree didn't have a pollinator within 40 to 50 feet, it most likely was a European pear (Pyrus communis), not an Asian (Pyrus pyrifolia) or Oriental hybrid, since these latter two are self-sterile and need a pollinator.
Full grown pear trees can get up to 20 feet tall and wide, so they need some space. There are options for the small backyard grower in USDA Zones 5 to 9, however. Semi-dwarf trees top out at 12 to 18 feet, and dwarf pear trees can be as short as 8 feet. These smaller varieties often will produce just as many pears as the standard size.
Pear tree care is simple. It involves fertilizing once a year, in springtime, and minimal pruning in winter to maintain an open crown.
Planting a pear tree
When planting a pear tree, select a site in full sun with plenty of room for the tree to grow upward. Always look for overhead power or telephone lines before you choose a planting site. The soil should be a bit on the acid side, pH 7 or lower. In warm and humid areas, select trees bred for fire blight resistance.
Dig a hole wide enough to spread the roots out, but the hole should be only as deep as the root ball, with the graft (a swollen area near the root ball on dwarf and semi-dwarf trees) 2 to 3 inches above the soil. If you dig the hole too deep, the settling of the tree after planting can result in a short life since planting too low is a huge contributor to trees dying for no apparent reason.
---