Many official state flowers aren't native plants
(Read article summary)
Do you know what your official state flower is, and if it's a native plant or not?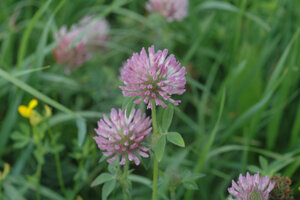 Courtesy of Karan Davis Cutler
Our field, until a farmer cut it recently, was dotted with red clover, Trifolium pratense. In addition to being a good insectary crop and green manure, red clover is used for forage and silage.
A rich source of isoflavones, chemicals that act like estrogens, it has medicinal uses as well.
Oh, yes, it's also Vermont's state flower, chosen over "the daisy, trailing arbutus, the posy, mayflower, and the buttercup," in a public vote in 1894.
Of the 50 state flowers, red clover is surely the most modest, a perfect match for Vermonters, who are famous for monosyllabic speech. What other state would inspire a book titled "Yup…Nope and Other Vermont Dialogues"?
Vermonters are protective of their status — anyone not born here is referred to as a "flatlander" — so it's surprising that our state flower isn't a native, which is usually defined as a plant growing in North America before colonization. Red clover is indigenous to Europe, Asia, and Africa, not New England.
Non-native state flowers
---