For a waterwise landscape, consider Mediterranean garden design
(Read article summary)
Looking for plants that don't use much water? Those that originated in the Mediterranean region are ideal for a low-water landscape.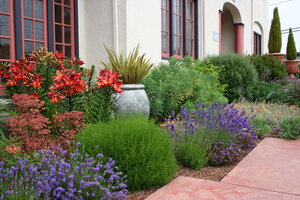 Courtesy of Genevieve Schmidt
Many in California and elsewhere are looking for inspiration in creating a gorgeous, low-water landscape, and the traditional Mediterranean garden provides ample ideas for those with a sunny garden and good drainage.
If you've seen the bold, lavender-lined gardens of Tuscany in books and magazines, you may have wondered how to get the look in your own space.
A Mediterranean garden design incorporates a number of iconic elements, such as the terra-cotta hue of the hardscaping and paint, the grayish-green foliage of so many Mediterranean plants, and the vase-shaped pots with bold flowers spilling from them.
One of the strongest elements, however, is a reliance on traditional Mediterranean garden plants. Olives, lavender and other herbs, and Italian cypress mix with other boldly colored garden plants to create the feeling of warmth in Tuscan gardens.
If you're interested in creating a Mediterranean-inspired garden, here are some traditional plants to choose from, as well as some other waterwise plants that harmonize well with this style.
Mediterranean herbs for fragrance, color
Lavender, wormwood (Artemisia), sage, lavender cotton (Santolina), rosemary, oregano, and thyme all make excellent additions to a Tuscan-style garden. Because their foliage releases scent when they are brushed against, they can make an excellent planting for along a pathway or near a seating area.
The grayish-green foliage of many of these herbs harmonizes well with olive trees, and the cool purple-blue tones of many of the flowers contrasts nicely with the warm hues used in so many Tuscan garden designs.
When using Mediterranean herbs, don't be afraid to go bold or formal in your design. It takes courage to plant 50 lavender plants along a pathway, but the effect will be well worth it. Likewise, formally flanking an entry with matching rosemary plants takes a bit of forethought, but strong design statements like these make the rest of your garden seem like part of a larger theme.
Italian cypress spires punctuate the garden
The tall spires of Italian cypress provide a sense of order and formality to a tumbling, exuberant garden.
Dwarf varieties such as 'Tiny Towers' can be placed in pots to highlight a patio or entry, or they can line a pathway and lead your eye toward the next view. Large varieties of Italian cypress can make excellent screens toward the periphery of the landscape.
However, the drawback to using Italian cypress is they are suited only to climates with summer heat (and realtively low humidity). In my cool, rainy climate, they last just a few years before turning brown and sad.
---