Fall house cleaning -- birdhouses, that is
(Read article summary)
One fall house cleaning chore is done outdoors -- cleaning out birdhouses so they'll be ready for next year's occupants.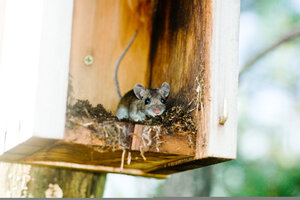 Courtesy of Karan Davis Cutler
Cavity-nesting birds use birdhouses as nurseries, not homes, so, come fall, it's time to clean out the nursery. It's a job I always rope my husband into; tongue-in-cheek, he calls it "our quality time."
Cleaning out birdhouses isn't without surprises. When we spent a year in Durham, N.C., our next-door neighbor pulled a four-foot black rat snake out of his purple martin house.
We discovered nothing so startling last week, although we did find paper wasps in one house and deer mice in three others [see photo at top]. The remaining four houses were filled with an assortment of grasses, twigs, leaves, feathers, and mosses — and wildlife too small to see. [See first photo at left.]
All these houses were designed for Sialia sialis, the Eastern bluebird. Males and females arrive in spring, investigate two or three houses, and then the male steps back and allows the female to build the nest.
That's the best-case scenario. More commonly, the bluebirds are usurped by tree swallows [see second photo at left; click on arrow at right base of first photo] or, worse yet, house sparrows.
Birds have preferences about houses, and a fine reference book is Carrol Henderson's "Woodworking for Wildlife," but there also are good sites on the Web that provide details about which bird likes what.
---