How to choose the best crab apple tree
(Read article summary)
When you're choosing a crab apple, it's the fruits that matter, not the flowers. Fall is the time to select the best one for you.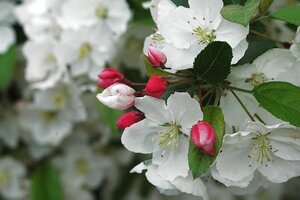 Courtesy of Karan Davis Cutler
In spring, flowering crab apple trees, all Malus cultivars, dot the New England landscape (and elsewhere around the US) like ground-hugging clouds of pink, rose, red, magenta, and white. And those gorgeous blooms are preceded by buds that often show more intense or different colors from the blossoms that follow, a floral two-for-the-price-of-one.
The flowers are fleeting, however, lasting two weeks at most. That's why fall is the time to choose a flowering crab: In fall you can see a tree's fruits, and the fruits are the crab apple's main event. They're as colorful as the flowers — ranging from yellow to orange to purple to scarlet — and they last for months.
Unless I'm visited by gluttonous flocks of cedar waxwings or robins in fall, the fruits stay on my trees from late July into the new year, when they are consumed by birds that hang around in winter.
For the birds and for making jelly
Malus trees with fruits larger than two inches in diameter are apples; anything smaller is a crab apple. Like their big brothers, crab apples are edible, although they tend to be less sweet, even astringent.
Jelly makers should pick a crab with fruits closer to two inches. 'Dolgo' is the standard for jelly, but 'Callaway' and 'Ralph Shay' also are popular. Trees with larger fruits that drop when ripe are messy and therefore are a poor choice for small yards.
If you want to attract birds while enhancing your landscape, choose a cultivar with "persistent" fruits — fruits that don't drop once they are ripe — and one with small fruits, three-fourths of an inch or less.
---
Follow Stories Like This
Get the Monitor stories you care about delivered to your inbox.