How to grow and use cilantro
(Read article summary)
A gardener and a chef team up with advice on growing and using cilantro, including a Mexican-inspired recipe.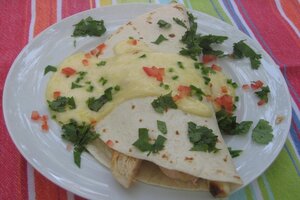 Courtesy of Linda Weiss
Cilantro, for me (Anne Moore, the gardener), has been an acquired taste. Mexican-style dishes containing cilantro were not tops on my list. Then something changed. I tried a dish with fresh cilantro and loved it.
What was the difference? I think in my case, it was the freshness of the cilantro. It has a unique flavor that I now find very pleasing. I even have a new appreciation for the dried leaves.
This plant, Coriandrum sativum, provides double benefits. Its leaves are known as cilantro. Its seeds are coriander.
You can grow the plant by sowing seed in the early spring in cool soil. Plant them about three-quarters of an inch deep in good garden soil in a sunny spot and keep them watered if spring rains are sparse. Harvest young leaves to use fresh in all kinds of dishes.
Collecting coriander seeds
When the little white flowers have matured into dark seed capsules, shake out the seeds into a mesh colander or paper bag and dry them in a cool, dry area before you package them in paper envelopes. If you live in USDA Zones 8 or higher, or like me, Zone 7 with a sheltered garden spot, you can plant cilantro now for late fall harvest of the leaves.
If you haven't tried fresh cilantro, you will be surprised at just how good it is. If you are a member of the "cilantrophobia" crowd (cilantro-haters), Chef Linda's Chicken and Onion Quesarito is the perfect recipe to establish a newfound love of this Mediterranean herb that typifies Southwest cooking.
---