Alpine strawberries: Perfect in foliage and in fruit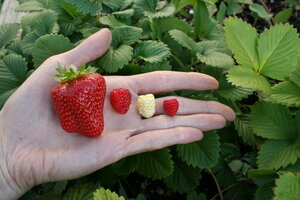 Courtesy of Genevieve Schmidt
Part of the joy in gardening with edibles in is growing varieties of fruit and veggies that you just can't find at the store.
Alpine strawberries are one such pleasure. Because they are so tender and thin-skinned, they have a short shelf life and don't survive travel well. This means you'll never find a carton of alpine strawberries at the supermarket.
Yet these delicate berries have a tart and complex flavor that surpasses the usual strawberry. They're reminiscent of SweeTarts candy, with a fresh strawberry flavor that makes them a hit on their own or sprinkled over ice cream.
Simple pairings best
While they can be baked or used in pies, they lose much of their complexity when mixed with too many other flavors, so I prefer them in simple pairings where they can be the star. "The Food Lover's Garden" by Mark Diacono (Timber Press) has a delightful recipe for alpine strawberry scones. The lightly sweetened scones are combined with fresh whipped cream and macerated alpine strawberries for a perfect summertime treat.
When growing alpine strawberries, you can get away with having less sunshine than with other strawberries. Because the plants haven't been bred extensively for large-size fruit, these tiny berries are strong and need less in the way of compost and fertilizer to perform well.
They have a long season of bloom and fruit, and have refined-looking foliage that's perfectly at home next to either ornamentals or other edibles.
---