A damp stroll across Chicago's front lawn
(Read article summary)
Chicago's Millennium Park is where political muscle meets people-friendly landscaping.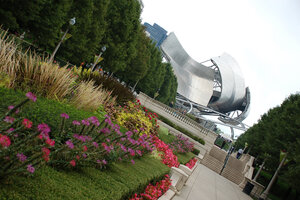 Courtesy of Craig Summers Black
So there we were, just the two of us, sauntering through the flowers in an early-morning semi-soaking rain off the lake in Chicago.
Devil-may-care romance? No, just another overzealous gardener bound and determined to take in a landscaping landmark before the weekend vacation came to a thudding halt.
Then again, in a former life I covered Portland and Seattle gardens for a large national magazine. So I've been wet before.
Our idea that Sunday morning was to take in Millennium Park before the six-hour drive home back to Madison County, Iowa
It was worth the dowsing.
How Chicago got its nickname
But first, before discussing that, a historical sidelight: The Windy City did not get its famous nickname because of the breeze.
You see, Chicago is no windier than most places, certainly less so than where I live. It was first called the Windy City because of the bloviage of city politicians. And Chicago is, first and foremost, a political city. I don't think Rahm Emanuel was so much elected mayor as he was appointed.
Politics, politics
And Millennium Park, now the city's No. 2 tourist destination (after the garish Navy Pier), is pretty much the result of city politics. What was supposed to be a $150 million project to turn railroad yards and parking lots into green space became a much-delayed $475 million project. Private donors did end up contributing more than $200 million, but still …
---
Follow Stories Like This
Get the Monitor stories you care about delivered to your inbox.