How to grow and cook sweet potatoes
(Read article summary)
A gardener and a chef team up with advice on growing and serving sweet potatoes, including a recipe for a delicious sweet potato cake.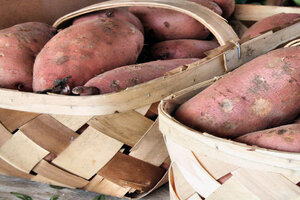 Courtesy of Anne K. Moore
When a reader left a comment wondering when we would be doing something sweet, Linda and I were ready with the sweetest Southern fall crop, sweet potatoes.
You grow sweet potatoes (Ipomoea batatas) from rooted cuttings, called slips, planted into warm garden soil (May in South Carolina, where we live). Their growing requires 90 to 150 days to mature, depending on type.
These tropical vegetables love the heat and humidity of Southern summers, but must come out of the ground before any frost hits the garden. When the vines turn yellow, it is time to dig. If frost is forecast, dig them even if the plants are still green. Even a light frost will travel down the stem and damage the swollen roots we know as sweet potatoes.
Harvesting and curing
Cut the vines, then carefully dig the roots, which bruise quite easily, with a spading fork, gently lifting the soil from deep underneath the plants.
The next activity will be to get them to "sweeten." Sweet potatoes come out of the ground starchy. They need high heat and humidity to reach their full sweet potential. The longer you can store them at 85 degrees F. and 90 per cent humidity (up to two weeks), the sweeter they will become. If summer has turned to late fall before your harvest, try curing the sweet potatoes in the kitchen, usually the warmest and most humid room in the house.
Once the sweet potatoes are dried and cured, they can be stored at warm temperatures, anything above 50 degrees F. Six to eight weeks of storage will improve their sugar content and sweetness.
Colder storage will harden the core of the sweet potato and ruin the taste. Never, ever put raw sweet potatoes into the refrigerator. Cook them first. To keep them for any length of time, wash them, boil or bake them, then after draining, package them with their skins intact and freeze or refrigerate them.
---