You'll learn a lot when you attend a rose show
(Read article summary)
Want to learn more about the Queen of Flowers? Attend a rose show.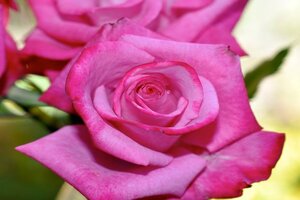 Courtesy of Lynn Hunt
Not long ago I had the honor of judging the South Carolina Rose Show in Columbia, S.C. As an accredited horticultural judge for the American Rose Society, I get to eye the best blooms grown by the best exhibitors on the East Coast. This show was really special because among the entries was one of the finest blooms of the hybrid tea Pop Warner I have seen in many years.
And that sighting was just the beginning of a day full of visual treats.
One of the cool things about this show is that was held at the South Carolina State Fair. In addition to viewing an impressive collection of roses, there were plenty of other fun things to do.
My British husband attended a cattle auction and was mesmerized by the auctioneer. Apparently they don't have such fast talkers in the U.K. He also was amazed by the varieties of food he'd never heard of, including elephant ears. We both managed to avoid the fried Twinkie on a stick (although I was tempted by a corn dog.)
The judging took longer than usual because there were so many deserving blue ribbon winners in the hybrid tea class. Out of 40 stunning blooms, and after many rounds of voting, the oldie but goodie Pop Warner was named queen.
As I wandered around between votes, I couldn't help but notice all the people eagerly waiting outside the ropes for the event to open. That scene took me back to the day when I stumbled upon my first show.
---