April gardening in southern California, Part 1
(Read article summary)
Among the gardening activities to do in southern California in April are planting vegetables and flowers, and checking the watering system to ensure it's working well.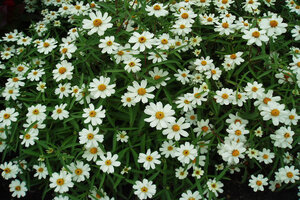 Courtesy of All-America Selections
In some parts of the country, "April showers" are present and important, but here in Southern California, we may get some April showers and we may not.
So that means we need to be sure our gardens, lawns, and permanent plantings get enough moisture to grow well. Conserving the moisture plantings get is also important, and we do that by applying mulch to bare ground.
Sow seeds of many kinds
Whether or not showers appear this month, you can plant seed of asparagus, beets, beans -- both pole and bush -- carrots, cabbage, sweet corn, popcorn, celery, cucumbers, all melons, eggplant, lettuce, kohlrabi, mustard greens, peanuts, peas, okra, long-day onions, pepper, pumpkins, radishes, spinach, squash, Swiss chard, all herbs, and tomatoes.
Plant in light soil, cover the seed lightly, and keep moist until plants have at least two true leaves, then water as needed.
Some of the summer flower garden may also be planted from seed now. These include amaranthus, alyssum, aster, bacopa, gaillardia, carnation, celosia, centaurea, columbine, echinacea, cosmos, heuchera, coreopsis, dahlia, Dahlberg daisy, dianthus, delphinium, ageratum, oenothera, nicotiana, gerbera, gomphrena, hibiscus moscheutos, hollyhock, impatiens (don't cover the seed of impatiens), larkspur, lisianthus, melampodium, nasturtium, marigold, osteospermum, penstemon, petunia, pyrethrum, portulaca, rudbeckia, salvia, statice, verbena, yarrow, sunflower, morning glory, vinca, and zinnia.
---