Peony season
(Read article summary)
When peonies bloom in spring, it's time to think about adding more next season. Singles or doubles may be the question.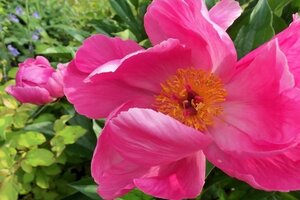 Courtesy of Donna Williamson
Peony season is a delight. This year it is earlier than normal due to weather weirdness. Usually in Northern Virginia, the peonies are Memorial Day treats.
The fragrance is compelling to many. It's not the cloying sweetness of lily-of-the-valley or the intoxication of lilac. It's not even the fresh grape fragrance of iris or the multicharacter fragrance of rose. Peony fragrance is of sun and clean linen.
As a fan of plants that are good companions (those that look and grow well together), I prefer single-flowered peonies to the big doubles so popular today.
Doubles need support . If you don't get that peony ring and frame out in time, the plants' stems lean over with the weight of hundreds of petals.
Often the rains of May will turn the blossom into a soggy tan mess that then dries on the stem. Ick. It might even be dry enough to shatter into a mass of brown petals that make a lumpy pile at the base of the peony plant.
This is unattractive and requires the gardener to intervene with a quick clean-up. There are too many other things to do this time of year!
More weather-proof
The better idea is to look for the single-flowering forms of peony (see first photo above). The flowers are exquisite, can be held up by the stems, and flutter into decay after blooming. They don't create a pile of mush, but decompose rapidly.
I often buy these types of peonies and work hard to keep the names. Sadly, cats and sun ruin my tags, and I lose the names. It doesn't seem to matter. though, as they are still beautiful and don't require me to clean up after their big moment.
Plant in fall
In the fall, look peony roots for sale and plant in a sunny location with good drainage. They seem to live forever and will benefit if the ants find them. Peony flowers are tasty to ants. They secrete nectar so the ants will protect them from other big and small critters looking for a meal.
---