A new mock orange reblooms
(Read article summary)
Beloved for its sensational spicy fragrance, mock orange is making a comeback, with many exciting new cultivars. One reblooms in late summer.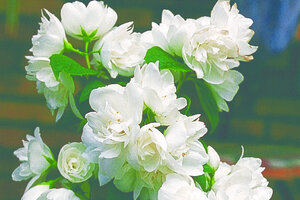 Courtesy of Plants Nouveau
One of the truly outstanding late-spring or early-summer flowering deciduous shrubs is mock orange, Philadelphus virginalis. Of the many species available to gardeners, this is probably the most popular, due in no small part, I'm sure, to its very pleasing fragrance and attractive white flowers.
An ancient group of shrubs named by Linnaeus in honor of King Ptolemy Philadelphus, who lived way back in 300 BC, and first introduced to Europe along with lilacs in 1562, these classic and easy-to-grow Victorian-era darlings are making a dramatic comeback these days.
Big time!
A reblooming cultivar
I'm a fickle gardener, I admit. Usually I'm passionately in love with whatever perennial or annual I'm looking at, at that moment. And though shrubs are also favorites, it's been a long, long time since I've been excited about a new shrub introduction to the point of drooling.
But here I am salivating over a mock orange!
If you remember seeing mock orange shrubs in your grandmother's garden, you know they were rangy plants that had no decorative value once they stopped blooming – so you might conclude that I've lost my horticultural mind!
But hear me out. The object of my current obsession is a newer introduction, a shrub officially known as Snow White Sensation (sometimes sold as Snow White Fantasy). Now I grow several older cultivars of mock orange for their scent, if not their beauty. However, Snow White Sensation (Snow White Fantasy) has knocked my garden clogs right out of the yard.
This is a beautiful, fast-growing shrub with gracefully arching branches. However, what makes her sensational are her two-inch, double snow-white flowers offered up in abundant clusters and smelling – well – like heaven.
And if she needed to strut her virtues even more, she sweetens the deal by blooming a second time!
---