Lavender is a fragrant addition to summer gardens
(Read article summary)
Beloved for fragrance, lavender is a colorful charmer in summer gardens and containers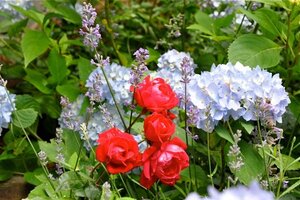 Courtesy of Lynn Hunt
Rosemary may be known as the herb of remembrance, but it is the unmistakable perfume of lavender that transports me to days gone by: A stroll through an English garden, an after shave my dad once wore, a sleep pillow handcrafted by a neighbor.
The evocative fragrance alone makes it worth growing, but lavenders are also wonderful companion plants. They're perfect choices for edging and low hedges, and create colorful accents in the garden as well as in containers.
And, of course, they make a powerfully fragrant combo when planted alongside roses.
Lavender's long history
Lavender is native to the Mediterranean region and has been used to perfume, cleanse, and heal for 2,500 years. Ancient Egyptians wrapped their dead in shrouds dipped in lavender.
The Greeks employed it to deter all manner of ills from insomnia to insanity. Its fresh scent made it a favorite with the Romans who used the herb extensively in bath water.
Lavender has been a part of the medicinal garden as far back as 77 AD. During the Middle Ages, Benedictine monks cultivated the plant for a variety of uses, including banishing head lice.
Fictional monk detective Brother Cadfael grew lavender in his walled herb garden. He noted that it was "helpful for all disorders that trouble the head and spirit, and its scent is calming."
---