A garden writer heads to Phoenix, where they really turn up the heat
(Read article summary)
An Iowa gardener hikes the Phoenix Mountains to enjoy the saguaro cactus plants -- and the winter heat.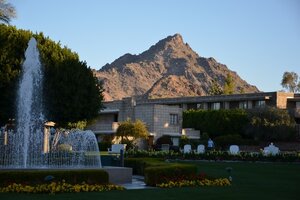 Courtesy of Craig Summers Black
Last winter, Zone 5 Iowa, where I live, became Zone 7 Iowa. Which is to say, for the first time in history the temperature did not go below zero. Kinda nice. Almost toasty.
Then we had a prolonged heat wave this summer. Not so nice. Drought.
But despite the fact that US weather researchers say that our temps in the past year were the highest since record-keeping began in 1895, the need still exists here to escape the cold. (OK, so I'm a weather wimp.) And one of the few direct flights from this little burg goes to Phoenix
So inside of three hours or so I was relaxing by the pool at the Arizona Biltmore, an ersatz Frank Lloyd Wright project designed to look midway between a Mayan temple and a mausoleum. At long last, I am warm again.
Phoenix Mountains
There's another bonus of staying at this architectural icon: quick access to the Phoenix Mountains desert preserve. Only 20 minutes from the pool.
OK, so I wanted to get warm, but this rocky incline was hot. Most sensible hikers were carrying water, but I figured I'd only get sweatier lugging the stuff up the mountainside. Six of one …
Saguaro cactus
---