New roses from David Austin for 2013
(Read article summary)
British rose breeder David Austin introduces six new English roses for 2013.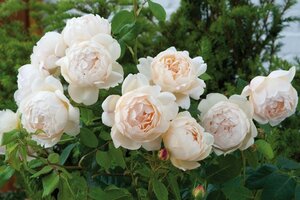 Courtesy of David Austin Roses
When I'm giving a lecture on roses, I often begin by telling the audience my presentation could be hazardous to their health.
You see, I know better than most that once "rose fever" sets in, there is no cure. No matter how many roses one has, there will always be a more appealing one coming up in next year's gardening catalogs.
Which means rose fever can also be hazardous to the pocketbook.
I myself contracted a rare strain called English Rose fever while living in London in the early 1990s, when I fell in love with a new line of "old-fashioned" roses created by David Austin.
As a result of a hybridizing program initiated in the 1950s, he captured the appealing features of Old Garden Roses (roses introduced prior to 1867) such as cupped or rosette-shaped flowers and strong fragrance in bushes that have the repeat bloom and vigor of modern roses.
So before the new catalogs arrive, I am giving my pocketbook fair warning – I've had a sneak peek at the new US introductions, and they all look like keepers.
Years in the making
When I visited the David Austin nursery in Britain few years ago, I was able to take a tour of the entire operation. It was fascinating to see greenhouse after greenhouse filled with seedlings and cuttings in various stages of development.
Every year, 150,000 pollen crosses are made by hand, which will produce around 400,000 seeds. These seeds are planted after being chilled in a cooler for three months.
---