Tiger Woods loses Gillette endorsement. Will 2011 be a turning point?
Tiger Woods has seen four companies – Gillette, Accenture, AT&T, and Gatorade – drop their endorsement deals with him. Can Tiger Woods turn his golf game – and his business image – around in 2011?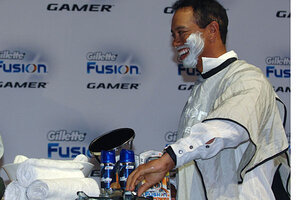 Gillette/Phelan M. Ebenhack/AP/ File
Procter & Gamble Co. will not renew its endorsement deal with Tiger Woods at the end of the year, adding another name to the list of companies that cut ties with the golfer after last year's revelations of marital infidelities.
The company used Woods, Roger Federer, Lionel Messi and dozens of other athletes as part of its three-year "Gillette Champions" marketing campaign. Gillette said Thursday it was phasing out that program and not renewing the contract with Woods and several other athletes. It stopped using Woods himself in the campaign months ago.
The golfer was once the most sought-after pitchman in sports and was the first athlete to earn $1 billion from endorsement agreements. However, many corporations cut ties or distanced themselves from Woods after the scandal that broke just over a year ago and dominated headlines for months.
IN PICTURES: Tiger Woods through the years
Accenture LLP, AT&T Inc. and Gatorade all dropped Woods as an endorser. Companies such as Gillette and Tag Heuer didn't end their relationships outright but stopped featuring him in advertisements.
---