Whaling shipwreck found in Hawaii linked to Moby-Dick
Whaling shipwreck: A shipwreck discovered in Hawaii is believed to be the second whaling ship the real-life Capt. Ahab sailed after the famous sperm whale sank his first ship. The remains of the whaling shipwreck are to be displayed in Hawaii, and may travel to Nantucket, where the real Capt. Ahab lived.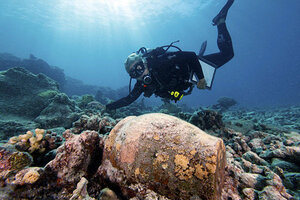 Greg McFall/NOAA/Reuters
A fierce sperm whale sank the first whaling ship under George Pollard's command and inspired the classic American novel "Moby-Dick". A mere two years later, a second whaler captained by Pollard struck a coral reef during a night storm and sank in shallow water.
Marine archaeologists scouring remote atolls 600 miles northwest of Honolulu have found the wreck site of Pollard's second vessel — the Two Brothers — which went down in 1823.
Most of the wooden Nantucket whaling ship disintegrated in Hawaii's warm waters in the nearly two centuries since. But researchers found several harpoons, a hook used to strip whales of their blubber, and try pots or large cauldrons whalers used to turn whale blubber into oil. Corals have grown around and on top of many of the objects, swallowing them into the reef.
"To find the physical remains of something that seems to have been lost to time is pretty amazing," said Nathaniel Philbrick, an author and historian who spent more than three years researching the Essex — and its fatal encounter with the whale — the Two Brothers and their captain. "It just makes you realize these stories are more than stories. They're about real lives."
Officials from the Papahanaumokuakea Marine National Monument — one of the world's largest marine reserves — were due to announce their findings at a news conference Friday, exactly 188 years after the Two Brothers sank.
---