Watson on Jeopardy: Watson dominates. Is HAL 9000 next?
Watson on Jeopardy: After a shaky start, the IBM computer won against two of Jeopardy's best contestants. Having Watson on Jeopardy may have been an interesting challenge for IBM, but what will come of it?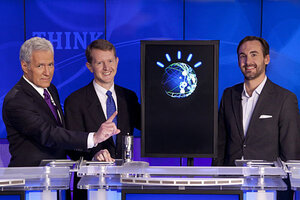 Jeopardy Productions, Inc./AP
Note to self: Never play "Jeopardy!" with a supercomputer.
That's a useful lesson for me or any mortal who has followed the Man vs. Machine faceoff this week on the popular trivia game show, where on Wednesday the second of two exhibition matches sealed the deal: Watson, the IBM-created megabrain, officially buried his flesh-and-blood opponents, veteran "Jeopardy!" champs Ken Jennings and Brad Rutter.
Watson's winning score was $41,413 for the day ($77,147 for both games), while Jennings notched $19,200 ($24,000 overall) and Rutter reached $11,200 ($21,600 overall).
For crushing his rivals, Watson gets a total prize of $1 million, which IBM has said will go to the charities World Vision and World Community Grid.
The vanquished Jennings and Rutter get $300,000 and $200,000, respectively, half of which each said they would be donating to charities.
"I for one welcome our new computer overlords," Jennings wrote alongside his correct Final Jeopardyresponse ("Dracula" author Bram Stoker), apparently trading on a line from "The Simpsons." Clearly Jennings is a good sport with a sense of humor.
But where does this leave viewers? Me, I'll take Mixed Emotions for a thousand, Alex.
---