Michael Jackson estate earns millions after artist's passing
Michael Jackson estate: The late artist was in substantial debt when he died in 2009, but the Michael Jackson estate has since earned $310 million and industry players expect the estate will continue to earn millions for years to come.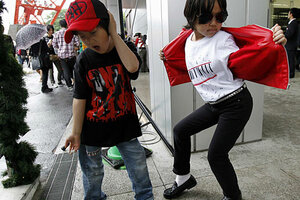 Kim Kyung-Hoon/Reuters/File
Michael Jackson's estate has generated $310 million in revenue from album sales, a film, merchandising and other products since the "Thriller" singer died in 2009, according to court papers filed on Thursday.
His estate's administrators have used $159 million to pay down the pop star's debt, which when Jackson died amounted to more than $400 million, court records show.
"Although there remain unresolved creditor claims, pending litigation and additional challenging business, tax and legal issues, and the estate is not yet in a condition to be closed, the executors have made substantial progress in reducing the estate's debt," the documents state.
The records, which were made public as part of the estate's probate proceedings, are the most detailed accounting yet of the finances of Jackson's estate from his death until December 31, 2010.
Beneficiaries of the estate are Jackson's children, his mother and various charities. Attorney John Branca and music executive John McClain were named administrators in a will the "Thriller" singer signed before he died in June 2009 from an overdose of drugs, most prominently the anesthetic propofol.
The singer's physician at the time, Dr. Conrad Murray, has been charged with involuntary manslaughter in the death and has pleaded not guilty.
---