Jerry Seinfeld wins right to tell jokes after cookbook libel case
Jerry Seinfeld has prevailed in a libel case, winning his First Amendment right to call a woman 'wacko' after suing his wife for what he calls 'vegetable plagiarism.' Jerry Seinfeld's attorney called the decision a victory for 'right of comedians to tell jokes.'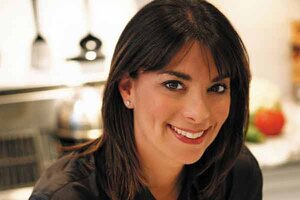 Running Press/AP/File
A judge has thrown out a lawsuit by a cookbook author who accused Jerry Seinfeld of hurting her reputation by mocking her on national television.
In a ruling filed with the court Friday, state Justice Marcy Friedman said it was clear the comedian was joking when he called author Missy Chase Lapine a "wacko" during an appearance on the "Late Show with David Letterman" in 2007.
The judge said Seinfeld also has a constitutional right to express his opinion.
The suit stemmed from a legal battle in which Lapine accused Seinfeld's wife, Jessica, of stealing her idea for a book on how to get children to eat healthy. Both women had published their books that year. Lapine's was called, "The Sneaky Chef: Simple Strategies for Hiding Healthy Foods in Kids' Favorite Meals." JessicaSeinfeld's was titled "Deceptively Delicious: Simple Secrets to Get Your Kids Eating Good Food."
The case became tabloid fodder, and Seinfeld addressed it on Letterman with a heaping of ridicule.
"One of the fun facts of celebrity life is wackos will wait in the woodwork to pop out at certain moments of your life to inject a little adrenaline into your life experience," Seinfeld told Letterman.
"So there's another woman who had another cookbook," he continued. "My wife never saw the book, read the book, used the book ... But the books came out at the same time. So this woman says, 'I sense this could be my wacko moment.'"
Seinfeld said Lapine was accusing his wife of "vegetable plagiarism."
"She comes out and says, 'You stole my mushed-up carrots. You can't put mushed-up carrots in a casserole. I put mushed-up carrots in the casserole.'"
---