Charlie Sheen offered Two and A Half Men job back?
Charlie Sheen: sources close to Charlie Sheen say the actor has been offered his job back, but will fans ever see Sheen on Two and A Half Men after all that has happened?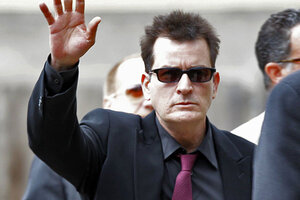 Ed Andrieski/AP/File
Charlie Sheen may be out of a job, for now. But according to reports swirling on Monday the actor may be back on television sooner rather than later.
NBC News quoted sources close to Sheen as saying that CBS had offered the actor back his job on the hit comedy "Two and A Half Men", but no deal had been struck and discussions were ongoing.
Elsewhere, The Hollywood Reporter said Sheen met with senior executives at rival network Fox last week for talks. The actor sent a cryptic Tweet over the weekend reading "perhaps a new lair...? A Fox and a Warlock? epic" accompanied by a picture of a Fox television logo.
Sheen was fired from "Two and A Half Men," the most-watched TV comedy in the United States, on March 7 after a stream of public insults toward its producer, Chuck Lorre.
Earlier, the actor had been the subject of numerous media reports about his wild partying, and he spent time in drug and alcohol rehab, leading Warner Bros. Television, which makes "Two and A Half Men," to call Sheen's conduct "dangerously self-destructive."
---