Freida Pinto stars in Miral, a Palestinian story 'they tried to stop'
Freida Pinto, the Indian actress of Slumdog Millionaire fame, plays a Palestinian teen in Miral, a movie its distributor says 'they tried to stop.'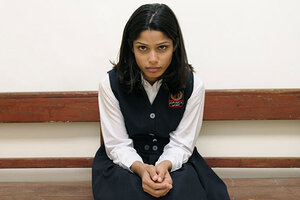 Jose Haro/The Weinstein Company/AP
During the making of "Miral," a coming-of-age tale about a teenaged Palestinian girl, a profound moment occurred for director Julian Schnabel as he was filming in a convent outside of Jerusalem. Sirens sounded and everyone on set — men, women, Palestinians, Israelis and otherwise — suddenly stopped for several minutes of silence.
"There was a pool of humanity at that moment that was in sync," recalled Schnabel. "It was powerful."
He didn't know it at the time, but Schnabel was experiencing an Israeli tradition that's part of Yom HaShoah, a memorial day in remembrance of the millions of Jews killed during the Holocaust. While everyone on set remained mum for that moment of silence, other folks have been anything but quiet about his film in the months leading up to its release.
After the movie was screened at the Venice Film Festival last year, some critics dubbed "Miral," which is based on the semi-autobiographical novel about four Palestinian women by journalist — and Schnabel's girlfriend — Rula Jebreal, as pro-Palestinian propaganda. Others questioned the casting of Indian-born actress Freida Pintoof "Slumdog Millionaire" fame in the title role.
---