Charlie Sheen tour continues after opening night debacle
Charlie Sheen tour: Former Two and a Half Men star, Charlie Sheen, started his variety show tour Saturday, but before the end of the show his audience had walked out. How much longer will the Charlie Sheen tour go on?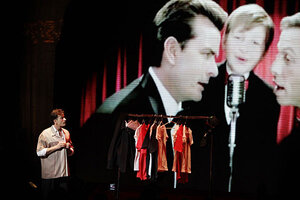 Carlos Osorio/AP
Charlie Sheen was heckled, booed and eventually abandoned by the crowd at his inaugural stage show, with many of the audience members chanting "refund" and heading for the exits even before the show abruptly ended.
Winning? Not on opening night.
The first stop on Sheen's "My Violent Torpedo of Truth/Defeat is Not an Option" 20-city variety show tour started Saturday night in Detroit with thunderous applause but ended 70 minutes later. In between, Sheentried to appease his audience with rants, a rapper and a question and answer session, ultimately concluding the first show was "an experiment."
Now Chicago's audience is wondering what will come of his second show, set for Sunday evening at the historic 3,600-seat Chicago Theatre. The Chicago Theater box office says the show is sold out, though tickets are listed for sale elsewhere online.
The former "Two and a Half Men" star learned firsthand at Detroit's 5,100-seat Fox Theatre that show business still requires a show. The debacle called into question the fate of the nascent tour. Some fans already predicted a premature end for the month-long trek.
---