El Bulli restaurant closes its doors
El Bulli restaurant has been called the best restaurant in the world, but now it closes its doors to make way for a reincarnation in the form of a foundation.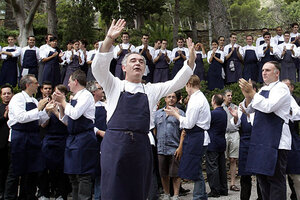 Albert Gea/Reuters
El Bulli, one of the world's most acclaimed and award-winning eateries, has served its last supper.
On the final menu Saturday were 50 dishes with intriguing names like "Clam Meringue," ''Olive Spheres," and "Hot Cold Gin Fizz."
For more than half of the 24 years that virtuoso chef Ferran Adria has been in charge of its kitchen, the restaurant has maintained the almost unattainable Michelin three-star status and been rated the world's best restaurant five times by British magazine The Restaurant.
After a final dinner and drinks party for faithful clients and staff families, Adria will close down the restaurant and begin turning it into a top level cuisine foundation he hopes to open in 2014.
"People think I should be sad but I feel the happiest man in the world," said Adria. "El Bulli is not closing. It's just transforming."
He himself will not be sitting at a table for dinner on the final night.
"No, I'll be cooking!" he said.
El Bulli's location in a beautiful and isolated seaside cove on Spain's far northeastern tip inspired Adria, who started off as a hotel dishwasher, to think about the essence of what makes food taste delicious, prompting him to deconstruct ingredients to what he calls the molecular level.
He would then reconstruct each dish using unexpected re-combinations of the original components, presenting them in mouthful-sized portions.
Most required instructions on how to eat them, sometimes with bare hands.
---