Chaz Bono called a 'penguin,' exits Dancing with the Stars
Chaz Bono was voted off Dancing with the Stars Tuesday night. Chaz Bono and his dance partner complained about judges making animal references about him.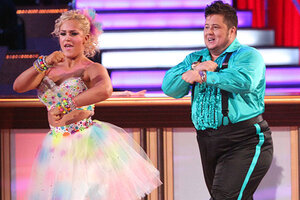 (AP Photo/ABC, Adam Taylor)
Chaz Bono has gotten his walking papers on "Dancing with the Stars."
Tuesday's edition of the hit ABC show marked the last dance for Bono. Despite his cheerful, spirited style, he had struggled from the beginning and came in last in the judges' assessment the night before.
When he got the bad news, the transgender activist said he had come on the program "to show America a different kind of man."
"If there was somebody like me on TV when I was growing up, my whole life would have been different," he said.
Soccer star Hope Solo, who also was in jeopardy, avoided being sent home and will stay in contention.
Along with her, five other celebrities remain in the contest: actors David Arquette and J.R. Martinez, reality TV personality Rob Kardashian, and TV hosts Ricki Lake and Nancy Grace. Judges' scores combined with viewer votes determine who is kicked off the show each week.
Monday's episode had included insults, an animal comparison and two nearly perfect performances.
A heated exchange between professional dancer Maksim Chmerkovskiy and head judge Len Goodman stole the spotlight from first-place finishers Lake and Martinez.
---