Country Music Awards shower love on Jason Aldean
The Country Music Awards named Jason Aldean, Carrie Underwood, Thompson Square, Shawna and Kiefer Thompson, Chris Young, Blake Shelton, and Toby Keith winners at this year's awards show.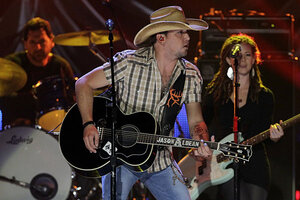 Mark Humphrey/AP
The American Country Awards were Jason Aldean's kinda party.
Country music's newest superstar won six awards Monday in Las Vegas, including the night's top honors artist of the year and record of the year for "My Kinda Party."
It's true, 2010 has been a non-stop party for Aldean. More than a million fans turned out for his arena tour, his platinum album has spawned four hits so far and the awards are starting to pile up after years of being ignored.
"This is getting a little ridiculous now," Aldean said on his second visit to the stage. "I don't know what else to say. It's been a crazy year."
Carrie Underwood's fans came through for her again at the fan-voted awards a year after she was the top winner on the inaugural show with six trophies. She picked up three awards this year, including female artist of the year and female single of the year for "Mama's Song."
"You guys vote like crazy," Underwood said during her second trip to the stage.
As expected, the show's focus was mostly on country music's emerging stars. Thompson Square also won three trophies — blue Fender Telecasters with an embossed silhouette of the U.S. The husband-and-wife duo of Shawna and Kiefer Thompson rode their breakthrough single "Are You Going to Kiss Me Or Not?" to group single, new artist single and new artist video of the year awards.
---