Clint Eastwood: His wife and daughters will do family reality TV show
Clint Eastwood will make guest appearances in the new reality TV show "Mrs. Eastwood & Company." It will also feature a South African all-male vocal group.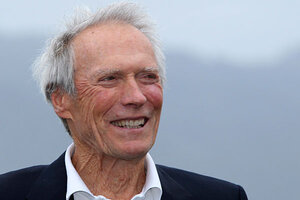 REUTERS/Robert Galbraith
Clint Eastwood's family is coming to TV in a new reality show.
The E! network said Tuesday that "Mrs. Eastwood & Company" will premiere May 20 as a 10-episode series. Clint Eastwood is expected to make guest appearances.
The show spotlights Dina Eastwood, who has been married to the Oscar-winning actor-director since 1996. Also on hand are the Eastwoods' 15-year-old daughter, Morgan, as well as 18-year-old Francesca, Clint Eastwood's daughter with actress Frances Fisher.
Rounding out the cast is the all-male, six-member vocal group Overtone, managed by Dina Eastwood.
"I found them when Clint was filming Invictus," Dina explained to E!. "I flipped out for them. I said, 'I'm moving them over here.' From the day they got off the plane, everyone said, 'This has to be a show.' "
---