Why Anchorage is the 'worst-dressed' city in America
Anchorage is the worst-dressed city, and Salt Lake City is the second worst dressed, according to a Travel and Leisure poll of 35 cities. Why Anchorage residents agree with the ranking.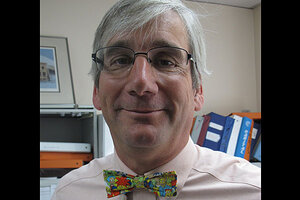 (AP Photo/Mark Thiessen)
Anchorage residents are apparently not dressing to impress.
That's the upshot of Travel and Leisure Magazine's reader poll, which put the residents of Alaska's largest city at the bottom when it comes to being on the top of style.
The magazine ran an online poll asking readers to rank 35 American cities on such things as best nightlife, best burgers, best New Year's Eve celebrations, etc.
By a three-tenths of a point, Anchorage landed just below Salt Lake City for having the worst-dressed residents.
RECOMMENDED: Seven classic fashion mistakes
"I think it's a little ridiculous, to be honest," said Hillary Walker, the assistant manager at lulu e. bebe fashion boutique in Anchorage. "I think dressing well is about feeling comfortable, experimenting, expressing yourself through your clothing. I think people in Anchorage do a great job with that."
Some others in Anchorage apparently feel differently. The unscientific poll was split between visitors to cities and residents. When you break down the worst dressed list even further, Anchorage residents rated themselves second-to-last, with Salt Lake City residents putting Utah's largest metro at the bottom of the rag pile.
The low ranking for Anchorage doesn't surprise state of Alaska labor economist Neal Fried, who went to work Thursday wearing his signature bow tie, this one featuring characters from "The Simpsons."
He discounts the theory that Anchorage residents don't shell out big bucks for fashion because of the higher prices for clothing, especially since he calls Anchorage a wealthy city — with a median income 41 percent above the national average.
---