Kitty Wells was 'queen of country music'
Wells broke new ground for female country singers.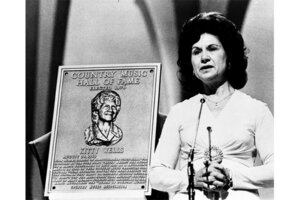 AP
NASHVILLE, July 16 (Reuters) - Kitty Wells, the "Queen of Country Music" who opened the door to a host of female country music headliners, died on Monday at her home in Nashville. She was 92.            
Among those mourning her passing was Loretta Lynn, whose own rise to popularity came after Wells, who paved the way for strong female voices in country music. "Kitty Wells will always be the greatest female country singer of all times," said Lynn in a statement released on her web site.             
"She was my hero. If I had never heard of Kitty Wells, I don't think I would have been a singer myself. I wanted to sound just like her, but as far as I am concerned, no one will ever be as great as Kitty Wells.  
"She truly is the Queen of Country Music."Â Â Â Â Â Â Â Â Â Â Â Â Â 
Wells, born as Ellen Muriel Deason Wright, actually began performing on local radio in Nashville, but her ascent to stage stardom began in 1937 with husband Johnnie, half of the duo Johnnie & Jack. He died in 2011.
She was the first female singer to reach the top of the country charts with her 1952 song "It Wasn't God Who Made Honky Tonk Angels," an answer to Hank Thompson's "The Wild Side of Life," which made the argument God indeed makes such angels.             
Wells was inducted into the Country Music Hall of Fame in 1976.             
"Kitty Wells was a 33-year-old wife and mother when her immortal recording of 'It Wasn't God Who Made Honky Tonk Angels' suddenly made her a star," according to the Hall of Fame's biography.            
"Other female country singers of her day were trying their hands at hard-living, honky-tonk songs, but it was the intense and piercing style of Kitty Wells, with her gospel-touched vocals and tearful restraint that resonated with country audiences of the time and broke the industry barriers for women," it said.             
Wells was born in Nashville to a musical family. She first began performing on the radio with her two sisters and a cousin, the quartet going by the name of the Deason Sisters.             
She married Wright in 1937 and joined by her husband and his sister, Louise, to perform as Johnnie Wright and the Harmony Girls. Two years later, Wright began performing with Jack Anglin as the duo Johnnie & Jack.             
While she performed with them as a girl singer in the 1940s, her husband began calling her "Kitty Wells," a name taken from a 19th century folk song.             
'SWEET, GENTLE LADY'Â Â Â Â Â Â Â Â Â Â Â Â 
Harold Bradley, 86, the venerable Nashville session guitarist whose brother, Owen Bradley, produced many of Wells' recordings, said there was no better person to work with than Wells.             
"I worked a lot of her sessions, of course, that Owen produced," said Bradley, the most-recorded guitarist in history. "She was the most sweet, gentle lady. She always knew her songs when she came in and she was very easy to work with."Â Â Â Â Â Â Â Â Â Â Â Â Â 
In addition to "It Wasn't God Who Made Honky Tonk Angels," which sold 800,000 copies in its initial release in the summer of 1952, according to the Hall of Fame biography, Wells sang "Release Me," "Making Believe," "I Can't Stop Loving You" among other classic songs.             
She garnered 35 Billboard Top Ten records and 81 charted singles. Michael McCall, writer and editor at the Country Music Hall of Fame and Museum, said Wells' importance to the emergence of women singing hit records "cannot be overstated."Â Â Â Â Â Â Â Â Â Â Â Â Â 
He said Wells proved to the industry that a woman singer could sell and headline big shows.             
"She opened the doors for everybody that came after her," McCall said. "It was just a huge shift in how things were perceived. It was so important that it happened."Â Â Â Â Â Â Â Â Â Â Â Â Â 
He said Honky Tonk Angels was controversial at the time, and some radio stations wouldn't play it. She wasn't allowed to sing the song on the NBC segment of the Grand Ole Opry when it first came out.             
"The fans rallied around her to prove the record industry wrong," said McCall.             
"She was one of the major recording artists of the 1950s and into the 1960s," said McCall. "She has had so many country classics and so many songs that came from a woman's point of view that were often about wayward and faithless men."Â Â Â Â Â Â Â Â Â Â Â Â Â 
Her straightforward manner and subject matter was a major influence on the song-writing and singing of Lynn and Dolly Parton, setting the stage for today's female country stars.             
"We live in an age when people over-sing so much and put so much emphasis on the emotion. She showed sometimes it's more emotional by having restraint rather than trying to oversell it," said McCall.             
Among her many honors, she was given the Grammy Lifetime Achievement Award in 1991, the same year as Bob Dylan and John Lennon were so honored.             
She was just the third country singer to be get that most prestigious award, after Hank Williams and Roy Acuff.             
She finally gave up touring in 2007 and continued to live a quiet life, so much differently than the subjects of her songs. (Reporting by Timothy Ghianni; Editing by James B. Kelleher, Greg McCune and Todd Eastham)
---