Marvin Hamlisch remembered for musical scores on Broadway and film
The composer, who passed away Monday in California, won multiple awards for his music that was heard on stage and screen.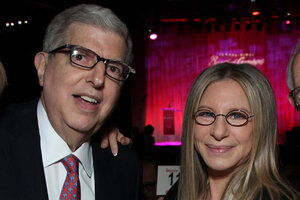 Alex J. Berliner, Cedars-Sinai Medical Center/AP/File
Marvin Hamlisch, who composed or arranged the scores for dozens of movies including "The Sting" and the Broadway smash "A Chorus Line," has died in Los Angeles.
Hamlisch collapsed and died Monday after a brief illness, his publicist Ken Sunshine said, citing the family. Other details were not released.
Hamlisch's career included composing, conducting and arranging music from Broadway to Hollywood, from symphonies to R&B hits. He won every major award in his career, including three Academy Awards, four Emmys, four Grammys, a Tony and three Golden Globes.
The one-time child prodigy's music colored some of Hollywood and Broadway's most important works.
Hamlisch composed more than 40 film scores, including "Sophie's Choice," ''Ordinary People," ''The Way We Were" and "Take the Money and Run." He won his third Oscar for his adaptation of Scott Joplin's music for "The Sting." His latest work came for Steven Soderbergh's "The Informant!"
---