Milla Jovovich leads weekend box office, ahead of 'Finding Nemo' 3D
Milla Jovovich, in 'Resident Evil:Retribution' brought in $21.1 million in the US, edging out the release of 'Finding Nemo' in 3D. Milla Jovovich's husband, Paul W.S. Anderson, has made three of the five 'Resident Evil' films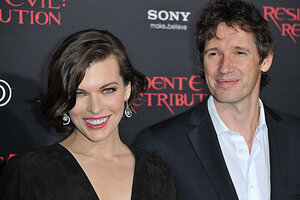 (Photo by Richard Shotwell/Invision/AP)
The No. 1 film at the box office was "Resident Evil: Retribution," which took in an estimated $21.1 million in its debut. This is the fifth film in the Sony Screen Gems action franchise, starring Milla Jovovich.
That topped the 3-D re-release of the Disney Pixar animated favorite "Finding Nemo," which opened in second place with $17.5 million.
The 3-D "Resident Evil: Retribution" was directed by Milla Jovovich's husband, Paul W.S. Anderson, who has made three of the five films. It features the actress once again as the warrior Alice, the last hope for the human race as an evil corporation unleashes a deadly virus that creates more flesh-eating undead on a worldwide scale. And fittingly, the film performed even better internationally, where it made a healthy $50 million.
RECOMMENDED: The 50 best movies of all time
"You have to give so much credit for that to Milla," said Rory Bruer, Sony's head of distribution. "She's such an incredible star and absolutely just works so hard in every country. Whether it's Russia or Japan, everywhere she's gone, she's worked so hard in regards to making the franchise a success."
---