Alex Karras remembered for star turn in pro football, TV and film acting
Former All-Pro defensive lineman Alex Karras passed away on Wednesday. He played for the NFL's Detroit Lions, then went on to an acting career.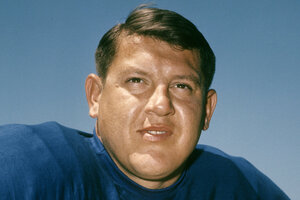 NFL Photos/AP
Alex Karras, the rugged lineman who anchored the Detroit Lions' defense in the 1960s, then went on to an acting career in which he starred in the sitcom "Webster" and famously punched a horse in the 1974 comedy "Blazing Saddles," died Wednesday.
Karras died at home in Los Angeles surrounded by family members, said Craig Mitnick, Karras' attorney.
Diagnosed with dementia, Karras in April joined the more than 3,500 former NFL players suing the league for not protecting them better from head injuries, immediately becoming one of the best-known names in the legal fight.
Detroit drafted Karras with the 10th overall pick in 1958 out of Iowa and he was a four-time All-Pro defensive tackle over 12 seasons with the franchise.
He was a terror on the field, using a variety of moves to push around opposing linemen and get into the backfield. His Lions handed the powerful 1962 Green Bay Packers their only defeat that season, a 26-14 upset on Thanksgiving during which they harassed quarterback Bart Starr constantly.
Packers guard Jerry Kramer wrote in his diary of the 1967 season about his trepidation over having to play Karras.
"I'm thinking about him every minute," Kramer wrote.
For all his prowess on the field, Karras may have gained more fame when he turned to acting in the movies and on television.
---