Alex Cross: Why the movie doesn't measure up
The latest Alex Cross movie falls short when compared to James Patterson's 12th Alex Cross crime novel. And Tyler Perry is no match on the big screen for Morgan Freeman as Alex Cross.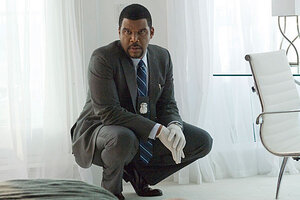 (AP Photo/Summit Entertainment)
James Patterson titled his 12th Alex Cross crime novel simply "Cross." The filmmakers who adapted it expanded the title to "Alex Cross."
They might as well have gone for broke and called it "Tyler Perry's Madea's Stab at Expanding Her-His Hollywood Marketability as James Patterson's Alex Cross."
Perry's name will draw his fans in. Patterson's name will draw his fans in. There's no trace of Madea in director Rob Cohen's adaptation, yet the spirit of the sassy grandma inevitably hangs over the project for viewers curious to see Perry playing it straight and dramatic.
Alex Cross the man and "Alex Cross" the movie wind up suffering for it. It's perfectly reasonable for Perry to try to broaden his enormous popularity beyond the Madea lineage in his own raucous portraits of family life. It's also perfectly reasonable to say that casting Perry as Cross was a bad idea, though it's not necessarily the worst in a movie built on bad ideas.
RECOMMENDED: The 50 Best Movies of all time
Perry has little allure as supposedly brilliant criminal profiler Cross. He looks the part of Patterson's big, athletic hero. And no one expects a Morgan Freeman, who played Cross in "Kiss the Girls" and "Along Came a Spider." But Perry is low-key bordering on sleepwalker dull, and the standard-issue cop-vs.-serial-killer story presents Cross as more of a dopey psycho-babbler than a guy whose incisive mind cuts right to the heart of the case.
---