Blake Shelton cleans up at CMA awards
Blake Shelton took home the CMA Entertainer of the Year, Best Male Vocalist, and "Song of the Year." Blake Shelton wrote "Over You" with his wife, Miranda Lambert.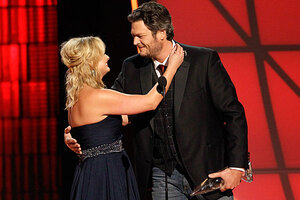 (Photo by Wade Payne/Invision/AP)
Winning the Country Music Association Awards' entertainer of the year is a top honor and always counted as a career high point. But for Blake Shelton it wasn't even the most memorable moment of an amazing Thursday night.
"The Voice" star took home three trophies, including his third straight male vocalist victory, but nothing compared to sharing song of the year with wife Miranda Lambert. The pair wrote "Over You," about the death of Shelton's brother Richie in a car wreck 15 years ago. He said that trophy will always have a special place in their Oklahoma home.
"For me as a songwriter that is as personal as I can get," Shelton said. "So that songwriter award, song of the year award, it will have its own shelf. It will have spotlights on it and an alarm and everything. Trip wires and there will be a land mine if you walk towards it. It is a real big deal to Miranda and I."
RELATED: 2011 County Music Awards
Shelton's entertainer win was the biggest surprise of a night full of them. Even he couldn't believe he'd won the award in a field that included Taylor Swift, Jason Aldean, Kenny Chesney and Brad Paisley.
---