Adele rules (over Taylor Swift) in album sales, again in 2012
Adele, for the second year in a row, had the best-selling album, "21." Adele's 4.4 million album sales in 2012 were followed closely by Taylor Swift's 'Red.' Gotye scored the year's top-selling song with "Somebody That I Used To Know."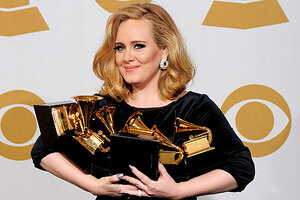 (AP Photo/Mark J. Terrill, File)
Turns out Adele ruled 2012, too — and set a record while she was at it.
The British singer's "21" was the highest-selling album in the US for the second consecutive year, according to 2012 sales figures released by Nielsen SoundScan on Thursday. That's a first in the SoundScan era.
Adele sold 4.4 million copies of the album in 2012 after selling 5.8 million in 2011. She crossed the 10 million threshold in November and was only rivaled by Taylor Swift, whose "Red" was second on the list. If her album sales continue apace in 2013, '21' will move into the top 10 list for sales since 1993, when SoundScan began current tracking methods.
Gotye scored the year's top-selling song with "Somebody That I Used To Know" featuring Kimbra. The song was downloaded a record 6.8 million times. Carly Rae Jepsen's "Call Me Maybe" was next at 6.5 million. Both songs are the first to cross the 6 million digital sales mark, while fun. came close with 5.9 million downloads of "We Are Young" featuring Janelle Monae.
Forty-one songs crossed the 2 million download mark, helping drive digital and overall sales to a new high even as album sales began to drop again after a momentary gain.
A record 1.65 billion music units — combining physical albums, digital albums and digital songs — were sold in 2012, fueled by an increase of 9.1 percent in total digital sales and a 14.1 percent increase in digital album sales.
---