TV cancellation causes uproar in Thailand
TV officials' decision to cancel an "inappropriate" soap opera has caused an uproar in Bangkok, where censorship is common but mid-season cancellations are rare.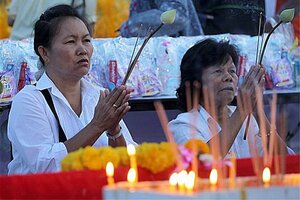 Apichart Werawong / AP / File
A Thai TV station's decision to cancel a popular and edgy soap opera mini-series has caused an uproar among viewers and critics who are demanding that the show's final episodes be shown.
Channel 3 announced Friday that it would immediately stop airing the prime-time action drama "Nua Mek 2" after "having considered that some content was inappropriate for broadcast."
The show, which began Dec. 14 and was aired three nights a week, told the story of a fictitious Thai prime minister, his corrupt deputy, black magic and political manipulation. After the station's announcement, the final two two-hour episodes, which were scheduled for Friday and Saturday, were not broadcast.
The station did not further explain its decision to cancel the show, but a Channel 3 executive told a member of the National Broadcasting and Telecommunications Commission, Thailand's broadcast regulator, that the channel feared the show's content would violate the law, Thai media reported over the weekend.
Some supporters of the series speculated that Thailand's government, which closely monitors television content, had a hand in the cancellation, but government officials denied having pressured Channel 3 to terminate the show.
"Those who know best (about the issue) are the broadcaster, producers and related personnel," Prime Minister's Office minister Warathep Rattanakorn told reporters Saturday.
According to the media reports, the unnamed executive told NBTC board member Peerapong Manakit that the station feared the show's content violated Section 37 of the Broadcast and Telecommunications Operations Act, which prohibits the broadcast of "content that seeks to overthrow the constitutional monarchy, threatens national security or morality, or constitutes profanity or causes severe harm to people's mental or physical health."
---