David R. Ellis dies: 'No foul play,' say police
David R. Ellis, director of 'Snakes on a Plane,' was found dead today in South Africa, where he was working on 'Kite,' another Samuel L. Jackson vehicle.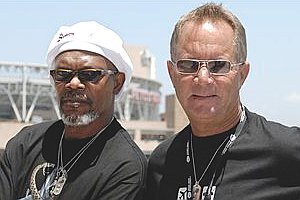 Chris Park / AP Photo / File
David R. Ellis, the director of "Snakes on a Plane," the 2006 movie starring Samuel L. Jackson that veered between humor and horror and became an Internet sensation even before its release, was once asked if he had any practical advice for someone stuck on a plane full of snakes.
"Get off," Ellis said.
The 60-year-old, a chameleon of the entertainment industry who worked as an actor and stuntman earlier in his career, was found dead in the bathroom of his hotel room in the upscale neighborhood of Sandton in Johannesburg.
Police said Tuesday that the hotel manager discovered Ellis' body at around 1 p.m. Monday. Ellis, 60, was last seen Saturday in a restaurant by a friend, reported the South African Press Association.
"Nothing was found to be missing from his room and no foul play is being suspected at this stage," said Lt. Col. Lungelo Dlamini, a police spokesman, told the news agency.
"The U.S. Embassy has been informed and are believed to be making necessary arrangements for the body to be taken to his own country," Dlamini said.
---