Lance Armstrong apologizes (but no confession) to Livestrong staff
Lance Armstrong told Livestrong Foundation staff Monday that he was 'sorry,' according to AP. But Armstrong did not admit to doping or using banned drugs during his cycling career.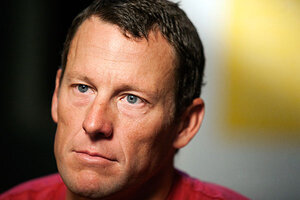 (AP Photo/Thao Nguyen, File)
Lance Armstrong apologized to the staff at his Livestrong cancer foundation before heading to an interview with Oprah Winfrey, a person with direct knowledge of the meeting told The Associated Press.
The person spoke on condition of anonymity because the discussion was private.
Stripped last year of his seven Tour de France titles because of doping charges, Armstrong addressed the staff Monday and said, "I'm sorry." The person said the disgraced cyclist choked up and several employees cried during the session.
The person also said Armstrong apologized for letting the staff down and putting Livestrong at risk but he did not make a direct confession to the group about using banned drugs. He said he would try to restore the foundation's reputation, and urged the group to continue fighting for the charity's mission of helping cancer patients and their families.
After the meeting, Armstrong, his legal team and close advisers gathered at a downtown Austin hotel for the interview.
The cyclist will make a limited confession to Winfrey about his role as the head of a long-running scheme to dominate the Tour with the aid of performance-enhancing drugs, a person with knowledge of the situation has told the AP.
Winfrey and her crew had earlier said they would film the interview, to be broadcast Thursday, at his home but the location apparently changed to a hotel. Local and international news crews staked out positions in front of the cyclist's Spanish-style villa before dawn, hoping to catch a glimpse of Winfrey or Armstrong.
Armstrong still managed to slip away for a run Monday morning despite the crowds gathering outside his house. He returned home by cutting through a neighbor's yard and hopping a fence.
During a jog on Sunday, Armstrong talked to the AP for a few minutes saying, "I'm calm, I'm at ease and ready to speak candidly." He declined to go into specifics.
---