Oscars 2013: Is Hollywood ready for gender-neutral awards?
With the 2013 awards season in full swing, Hollywood insiders discuss whether Oscars and other awards should still be separately awarded to actors and actresses.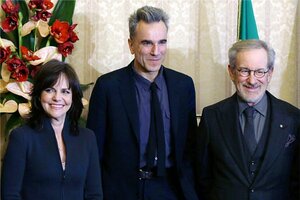 Gregorio Borgia / AP
Do Meryl Streep, Anne Hathaway and Helen Mirren really need a category just for women — a singular kind of affirmative action — to snare one of Hollywood's favorite accessories, an Oscar, Emmy or Screen Actors Guild trophy?
In a society tilting steadily toward gender neutrality, the separate-but-equal awards that divide actors into one camp and actresses into another have the whiff of a moldy anachronism.
True, the Association for Women in Science gives honors to encourage female success in male-dominated fields. But to mark enduring achievements, would its members ever yearn for a Women's Nobel Prize in physics?
In contests of intellect or artistry, should gender ever matter?
"It's not like it's upper body strength," Gloria Steinem dryly observed of the requirements of acting.
The separate labeling of male and female performers is losing favor in the industry. Actresses often swat the distinction away by calling themselves "actors," standing shoulder to shoulder with their male counterparts.
Usherettes are long gone from movie theater lobbies, after all. And defense officials said Wednesday the Pentagon will be lifting its ban on women in combat.
SAG, which holds its awards ceremony Sunday, edged toward neutrality with its trophy dubbed the Actor, although the guild gives separate honors to best performance by a male actor and by a female actor.
---