Jane Fonda handprints next to Dad's in Hollywood
Jane Fonda is honored with hand and foot prints in cement next to Henry Fonda's outside the Chinese Theater. Jane Fonda will also be present at a special screening of 'On Golden Pond.'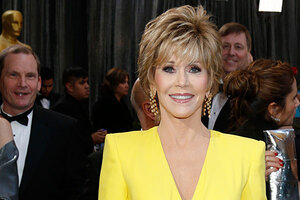 (Photo by Todd Williamson/Invision/AP, File)
Jane Fonda is planning to shed a few tears on Saturday.
That's when the 75-year-old Oscar winner will place her hand and footprints next to her father's in the concrete shrine to celebrity outside Hollywood's Chinese Theatre. Then she'll present a special screening of the film she made with her dad, 1981's "On Golden Pond." The cement and cinematic tribute is part of the 2013 TCM Classic Film Festival, which is honoring Jane Fonda.
"I am very, very excited," Fonda said in an interview this week. "I thought probably I would die and this would never happen. I'm just really thrilled that it actually is happening and not only that, but I get to put my hand and footprints right next to my father. ... I'm just so happy I'll probably cry."
The honor inspired Fonda to reflect on her career, which hasn't slowed since she returned to acting in 2005 after a 15-year hiatus.
"I've made some really good films. There's also a lot of films I wish I could do over again," she said. "But I've been lucky: I've worked with some great directors, and I feel like I'm still a work in progress as an actor. I feel like I'm still learning."
After her guest-starring stint on "The Newsroom," she's more interested than ever in television.
"I'd love to have a television series of my own," Fonda said. "I'm hoping that might happen."
---