American Idol winner, Candice Glover, first album in July
American Idol winner, Candice Glover, plans to release her debut album in July. Candice Glover says the album 'will most likely be R&B, soul and a little bit of jazz, almost like a Jazmine Sullivan vibe.'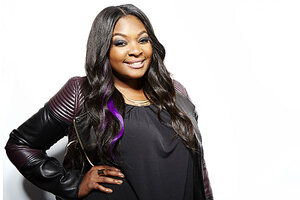 (Photo by Dan Hallman/Invision/AP)
Candice Glover spent more time on season 12 of "American Idol" than she will on creating her debut album.
The 23-year-old, who won the Fox singing series last week after competing for four months, is set to release "Music Speaks" on July 16.
Past "Idol" champs released their debut albums in the fall after winning the contest in the spring, but Glover said she's ready to capitalize on the insta-fame "Idol" has given her.
"I've built a fan base being on this show, and my fan base is interested in me now and they won't see me every Wednesday and Thursday anymore to admire my singing, so I think it's a good thing it's coming out this summer," she said in an interview this week.
"It's crazy that I'm even talking about an album because last year I was working at a resort," she added, laughing.
"Music Speaks" was available on pre-order the day after she won the "American Idol" crown, beating out country singer Kree Harrison. Glover's debut single, the inspirational pop ballad "I Am Beautiful," sold 48,000 tracks in its first week, according to Nielsen SoundScan.
The St. Helena Island, S.C., native, who auditioned but didn't make the cut in seasons nine and 11, said the "American Idol" experience has made her more confident.
She said taking risks on the show — like performing Paula Abdul's "Straight Up" and Drake's "Find Your Love" — is helping her find her true voice.
---